"I don't think it was a coincidence that I was offered a PhD position immediately after graduation"
Mayya Shmidt studied our Master's Programme in Sociology, and is now enrolled as a PhD student at Uppsala University.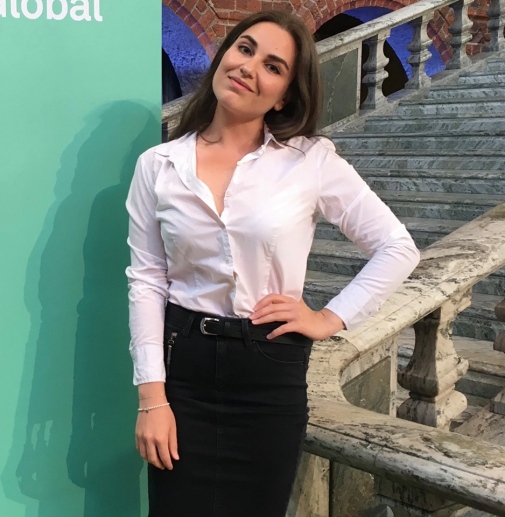 What are you doing now?
I am a PhD Candidate at the Department of Sociology at Uppsala University. The research project I am currently working on deals with the so-called Sharing economy, an emergent form of social organization. While developing this project, I teach economic sociology for master's students and work on the article reporting findings from my master's thesis.
How did you get to where you are today?
I am originally from Moscow, and my academic track started there as well. I hold BA and MA in Sociology from Higher School of Economics, Moscow. Moreover, I have been working as a research assistant there during my studies.
I have been fortunate to obtain a wide range of academic experiences. The most significant part of my work has been conducting my own empirical studies and disseminating its results to (non)academic audiences via publications in Russian and international journals, and participation in international research conferences and workshops, research seminars and summer schools.
The opportunity to study the master's programme in Sociology at Stockholm University was given to me by the Stockholm University and Swedish Institute, which supported my studies with Visby scholarship.
How did our Master's Programme in Sociology help you realize your professional goals?
I don't think that it was a coincidence that I was offered a PhD position immediately after graduation from Stockholm University. The master's programme I studied provided excellent research training. The courses I took allowed me to further develop a theoretical depth in my inquires and also breadth in terms of both methods and fields of studies. I am very grateful to my former supervisor, professor Vanessa Barker, who always provided extensive feedback on my writings and encouraged me to produce a publishable work. A study I wrote under her supervision has been recently awarded a prize for the best master's thesis relevant to civil society and social development in Sweden.
How did you like living and working in Stockholm?
Stockholm is a fantastic place to live and work in, especially for international students. I specifically appreciate work-life balance that I managed to create since I moved to Stockholm.
How come you chose the Department of Sociology and Stockholm University for your master studies?
The Department of Sociology at Stockholm University is one of the few places that offer a wide range of interdisciplinary courses taught in English. This is an excellent opportunity to explore new subject areas. As I was mostly interested in building my degree from both obligatory basic courses and worthwhile electives, I have given the master's programme in Sociology the first priority. Moreover, I was pleased with how high Stockholm University and the Department of Sociology are ranked in university rankings.