"The people have a voice here – that's why I was intrigued by Stockholm university"
The university's high ranking, a different teaching style that encourages discussions and her own eager to learn more about the Swedish social welfare system – this is why Petra Krampl chose the Department of Sociology at Stockholm University for her exchange studies.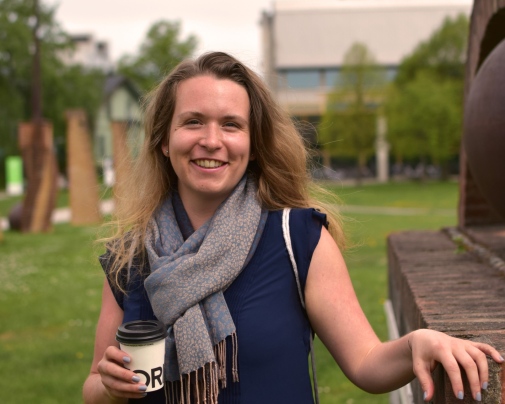 – Stockholm University educates people to use their mind, not only to fulfill a function. The people learn to have a voice here, and that is why I was intrigued by this university", she concludes when we meet during the last weeks of her academic year in Sweden.
In her home tome of Vienna, Austria, former social worker Petra Krampl studies a Master in Sociology. Here in Stockholm she took courses in both Sociology and Demography, and one thing that struck her was that the teachers at the Department of Sociology are very much involved in research, and not only teaching.
– Lectures and discussions with experts on their research topics bring in different angels on one topic. That makes the level of the courses and the input students get here high quality and quite challenging, she says.
One course that she liked in particular was Political Sociology. She describes the overall teaching style as being non-judgmental and characterized by student participation, feedback rounds and discussions.
– The teachers really have this vision of supporting their students. The courses I took were in small groups which made it feel cozy, like school, she says.
Talking about the overall Stockholm experience, Petra Krampl says the people felt calm, respectful and thoughtful – even during rush hour in the metro!
What was the hardest thing during your exchange year?
– To come in touch with other people, it is hard to make some real Swedish friends. One thing you can do to overcome it is to join a sports club, like I did. There are also some international student associations, interest orientated events, student parties and activities offered by student unions.
What advice do you have to our incoming exchange students?
– I came in with this idea that I had to be the best in all the courses, or one of best. I had missed the fact that it's a completely different language (English) than what I'm used to study in. I also had to get used to a different style of teaching, and figure out what the professors expectations are which took me some time. My advice would be to make other experiences as well, enjoy the exchange and maybe accept to be an average student for a while.
Petra's top 3 in Stockholm:
1. Some of my favorite Bars and Café's are around the subway stop Hornstull: Cafè Bio Rio and Café Vurma and the bar Judith and Bertil.
2. The beautiful park areas inside the city, and the walking tracks along the water from the suburbs of Stockholm into the center.
3. The museums island with a big variation. The concept "museum as experience" works for some of them and in special for the Medieval Museum or the Technical Museum.
Last updated: May 30, 2017
Page editor: Leila Zoubir
Source: Department of Sociology