Reducing our paper consumption
An important part of the environmental work at our department is the constant struggle to reduce paper consumption. We are happy to announce that we are doing quite well in our efforts to do so.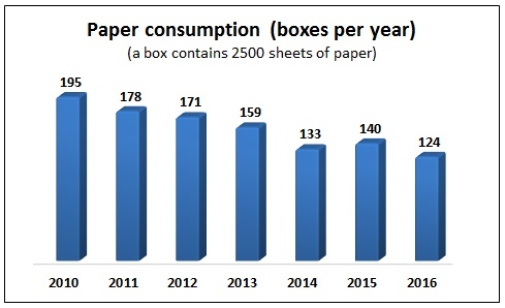 During last year, 2016, we had the lowest consumption since we started measuring in 2010. Moreover, our new Printomat printers will hopefully help us lower the consumption even further.
Although the first quarter of 2017 shows a slight increase, the numbers for the second quarter are very promising – only 11 boxes of paper so far!
Guidelines to lower your paper consumption
Always print double-sided when possible
Use the Printomat printers, in order to avoid printing by mistake.
(Also the cost for printing is lower on these printers than on other printers)
Think before printing - Is anybody actually going to read your printout?